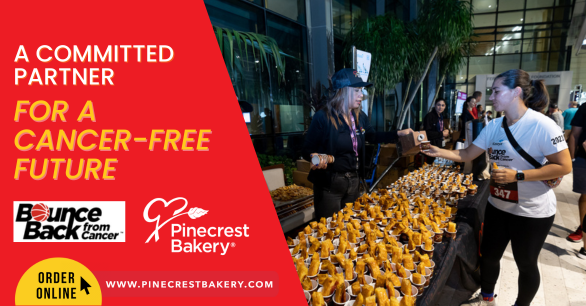 In a powerful act of unity and commitment, the "Bounce Back from Cancer™" charity event shone as a beacon of hope on March 12th this year. This unprecedented partnership between the Miami HEAT and Baptist Health Foundation had a clear purpose: to raise critical funds to drive the vision of the nonprofit Baptist Health Miami Cancer Institute, aiming to eradicate cancer in all its forms. In this article, we'll explore how Pinecrest Bakery, as a prominent sponsor, played an invaluable role in this collective effort.
A Shared Commitment for Change:
Cancer is a challenging reality that affects many lives. With the staggering statistic that one in two men and one in three women will face a cancer diagnosis in their lifetimes, the need for a resounding response is evident. Bounce Back from Cancer™ became that response, uniting individuals and organizations in a collective endeavor to reverse these statistics.
Pinecrest Bakery: A Committed Partner:
At the heart of this alliance lies Pinecrest Bakery, a name known for its excellence in baking and a heart devoted to the community. As a key sponsor of Bounce Back from Cancer™, Pinecrest Bakery didn't just add its distinctive touch of sweetness to the event; it also sent a clear message: businesses have the capacity to make a tangible difference in the fight against cancer and offer a ray of hope to those affected by the disease.
The Impact of Pinecrest Bakery:
Pinecrest Bakery's involvement in Bounce Back from Cancer™ stands as a tangible reminder of how a business can play an integral role in the cancer fight. Its presence goes beyond offering baked delights; it's a declaration of commitment to the community and an investment in a future where cancer is overcome by science, support, and hope.
Forging a Cancer-Free Future:
Bounce Back from Cancer™ is more than a charity event; it's a mission. Funds raised through this initiative will support innovative research and vital clinical trials conducted by the Baptist Health Miami Cancer Institute. This joint effort aims to shift the cancer paradigm and provide new avenues of healing and hope for those affected.
The Bounce Back from Cancer™ event on March 12th this year became a living testament to what can be achieved when forces unite for a noble cause. The alliance between the Miami HEAT, Baptist Health Foundation, and the valuable support of Pinecrest Bakery encapsulates the community's determination to face and overcome cancer. As we continue to raise funds for research and treatments at the Baptist Health Miami Cancer Institute, we draw closer to a future where cancer is defeated and hope prevails. 
Pinecrest Bakery, with its visible commitment, stands as a beacon of inspiration for all businesses wishing to make a difference in the cancer fight and contribute to a better world.
---