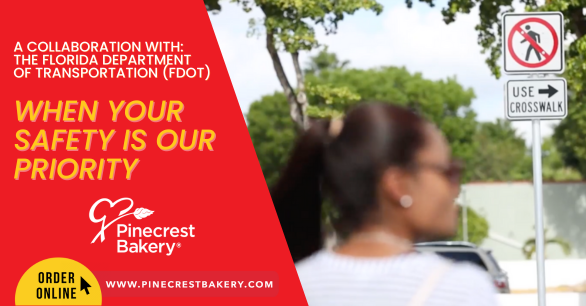 We often wonder how we can strengthen our ties with the community, how we can actively be a part of their days, routines, and special moments.
It fills us with joy to be that place of trust and tranquility where you feel comfortable, secure, and, above all, where you know you can indulge in special and healthy moments. While we are delighted to provide this sense of well-being to each of you, it's not enough for us. We are deeply grateful to our community, which has allowed us to grow and form such a large and beautiful family. Our most authentic motto is "Bite into Tradition" because, for us, our tradition is you.
Today, we want to tell you about a very special collaboration, a sponsorship that fills us with pride. We had the opportunity to support the Florida Department of Transportation for a fundamental purpose: to promote and ensure road safety in our community. Because when our community is safe, we are happy.
The main reason for this collaboration was the "Pedrastian Safety Campaign." Its goal is clear: to ensure pedestrian safety and encourage driver responsibility. We firmly believe that if each of us does our part, we can achieve an exceptional level of safety on our streets.
Our Pinecrest Bakery branch, located in Kendall 9710 SW 88th St, Miami, FL 33176, had the privilege of supporting this initiative in a special way. We not only endorsed this noble cause but also provided the space where an emotional video was filmed, which is still being shown in Florida's movie theaters. You can watch the video by clicking here.
We invite you to join us in this effort to keep our streets safe. Road safety is everyone's responsibility, and together, we can make each day safer. That is our promise: when your safety is at stake, it's our priority.
So, we encourage you to stay alert and live each day to the fullest with security. Your well-being is our commitment.
Thank you for being a part of our tradition.
---