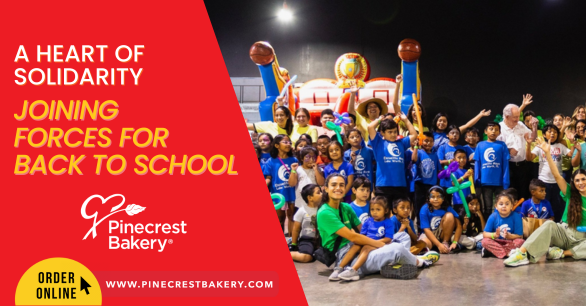 The essence of equality resides deep within each one of us, and in times of need, family is always there to support us.
This new school year, Pinecrest Bakery, in collaboration with Style Saves and Growment Group, came together with a clear purpose: to support and uplift over 15,000 children as they return to school. The heart of this remarkable endeavor was the Mana Wynwood Center, where each sponsor joined forces with passion and dedication to provide children with everything they need for a new year filled with hope and joy.
The Pinecrest Bakery family takes immense pride in contributing their part, in the form of delicious pastelitos and croquetas, to all those parents and children striving for a brighter and more promising future. Each bite is a way of telling them they are not alone in this journey.
We extend heartfelt gratitude to each sponsor who made this initiative possible, with a special mention to Style Saves for spearheading this noble effort.
If you wish to learn more about this incredible collaboration and how you can contribute, we invite you to visit their website at https://www.stylesaves.org/. Additionally, be sure to follow the link https://www.instagram.com/p/Cv5EXR5Oebt/ for an up-close look at this exciting journey.
At Pinecrest Bakery, we take pride in bringing a touch of tradition to the community and being part of this back-to-school season filled with solidarity and hope. 
Together, we are cooking a brighter future!
---