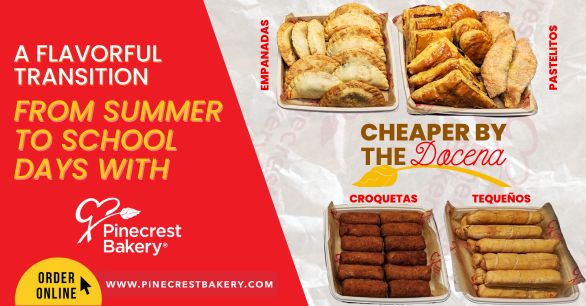 At the heart of Pinecrest Bakery, a deep connection to the traditions of our beautiful community thrives. As the summer gently fades away, doors swing open to exciting new chapters: the return to classrooms, the reunion with our workplaces, and the warm embrace of loved ones. In this dance of life, we often discover that coming back to where we belong is a significant step.
And so, we are brimming with excitement as we come together once again. Our preparation for this new chapter includes an array of irresistible offers, ready to be savored and shared with the same passion with which we create them.
Throughout this month, we present before you an assortment of irresistible choices:
Back to School: 2 Dozen + Carafe pckg
The return to school has never been sweeter. Delight in 24 units of our most beloved creations: Croquetas caseras and pastelitos, accompanied by a Carafe pckg with 12 cups, featuring your choice of American Coffee, Café con Leche, Fresh Orange Juice, or Fruit Juice (Mango). A perfect combination to fuel up for this new educational journey.
Back to Work: Family Breakfast + Carafe pckg
There's no better way to start the day than with a family breakfast. We know that breakfast is the foundation of a productive day, and our Family Breakfast includes everything needed to ensure just that: 12 eggs, 12 bacon strips, 3 sausage patties, 3 ham slices, 3 tostadas, 3 croquetas, all paired with a Carafe pckg that brings together the essentials.
305 Miami pckg
Ready to savor the best of Miami? Our 305 Miami Package is a feast that includes 25 bocaditos, 25 pastelitos, 25 mini papas rellenas, 25 mini chicken gordon blue, 25 croquetas de jamon, y mucho más. Every bite is a journey to the vibrant spirit of the city.
Party pckg
Every occasion turns into a celebration with our Party Package, a carefully crafted selection to bring flavor and joy to your special events. Want to learn more details? Click here to access the festive delights!
La Docena Tax-Free, Always
Indulge in your favorites worry-free. Choose from pastelitos, croquetas caseras, tequeños, or empanadas, and take advantage of tax exemption with every delicious choice.
We are here to accompany you every step of the way. Visit any of our 20+ locations in South Florida.
If you desire more details or have any questions, don't hesitate to reach out. We are here to satisfy your cravings and be a part of your special moments!
---