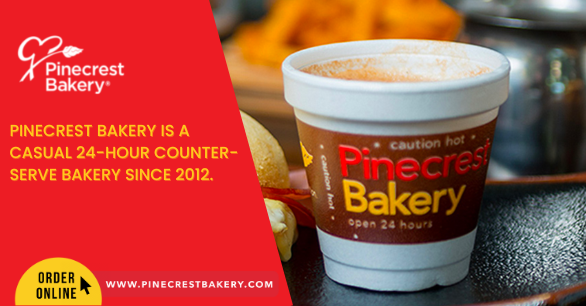 The restaurant
Pinecrest Bakery is a group of 22 Cuban-style bakeries across south Florida run by the Valdes and Rodriguez families. Since 2019, 18 of the bakeries have partnered with Rewards Network®. 
The opportunity
Pinecrest Bakery recognized that partnering with Rewards Network could boost brand recognition and increase revenue.
The result
Rewards Network brings Pinecrest Bakery local and national full-price customers along with marketing and data to fuel growth and success.
Overview
Pinecrest Bakery is a casual 24-hour counter-serve bakery bringing authentic Cuban cuisine to south Florida since 2012. Since partnering with Rewards Network, Pinecrest has expanded to 22 locations throughout the state and plans to open two new locations within the next year.
Authentic food and iconic Cuban flavors have been driving factors in Pinecrest's success. Victoria Valdes, Chief Director of Communications at Pinecrest Bakery, is a proud ambassador of the Rewards Network marketing services program. The partnership between Rewards Network and Pinecrest Bakery has opened doors to audiences the bakery otherwise would not have had access to.
How Rewards Network drives business: behind-the-scenes partnership
Rewards Network supports restaurants like Pinecrest Bakery by providing 100% turnkey marketing and access to data-driven insights. Much of it takes place behind the scenes so restaurants can focus on their day-to-day operations.
"From the beginning, Rewards Network has just operated on its own. We really haven't had to put a lot of effort into seeing the results," Valdes said.
With the help of the world's most recognized brands, the Rewards Network marketing services program puts Pinecrest Bakery in front of 20 million customers nationwide. Since 2019, Rewards Network has brought in more than 47,000 diners and $773,000 in revenue across all locations. "Rewards Network has brought an immense clientele that we previously did not have access to," Valdes explained.
Marketing in the background
The nearly 300 million emails sent yearly by Rewards Network are customized depending on customer spending habits, dining preferences, and demographics. The emails sent on behalf of Pinecrest are no different. For instance, if a member lives in south Florida, they'll receive emails that feature promotions and offers at restaurants within a specified radius of their address. From emails touting exclusive bonuses to weekly promotional content focusing on local restaurants, each engaging email is strategically targeted to dining enthusiasts across the country.
Another benefit of the partnership between Pinecrest Bakery and Rewards Network is the custom webpages created for each bakery location. These webpages include photos of the bakery, their food, hours, reviews, seasonal menus, Events and Specials, and more. Members can search for restaurants within each program's webpage to see where they can earn. That means, if a traveling diner is interested in earning rewards, they can search each program's loyalty site to find local restaurants where they can dine and earn.
Verified reviews providing insights
After dining at Pinecrest Bakery, members receive an email encouraging them to review their dining experience. Members are often incentivized to post reviews as a condition of earning their rewards. These verified reviews are used to gain insights about the bakery's customers, such as their dining habits and overall dining experience. Customers give candid feedback regarding their visit, and in return, Pinecrest Bakery can respond. From January to March 2022, the bakeries have received over 250 reviews completed by verified diners. Utilizing reviews from customers allows the bakery to not only make improvements based on feedback but gives the business a sense of customer sentiment. During this same timeframe, Pinecrest locations have garnered a positive review rate of 76%, making the member base "a segment we want in our locations," Valdes said.
Leveraging data to find a new audience
While marketing plays a big role in getting customers in the door, Rewards Network data equips Pinecrest Bakery to make educated business decisions. A common challenge that restaurant owners face is how to collect relevant data. Rewards Network bridges that gap by compiling data-driven insights about customer behavior. This data includes how often members dine at program restaurants, how much they spend, and the ZIP codes they come from.
Pinecrest uses ZIP code data to strategize its own marketing to pinpoint locations where there's room to grow. "The ZIP code data is something we're really leveraging," commented Valdes. "Rewards Network provides data indicating where we need to invest marketing dollars to increase traffic." Rather than investing marketing dollars in a ZIP code that's already supplying many customers, Pinecrest can focus their attention on opportunity-rich ZIP codes in untapped markets. With this information, Pinecrest can see that their customers come from all parts of the state and country.
Conclusion
The partnership between Pinecrest Bakery and Rewards Network powerfully drives business behind the scenes and provides insightful data that can be used to bolster current initiatives and strategically expand operations. Valdes predicts that she'll only see more positive results from the alliance in the future. With two additional locations on the horizon, the partnership will undoubtedly continue to flourish.  
Visitors from 34 states have dined at Pinecrest Bakery
The above data is a quarterly snapshot from 2022.
"It's a no-brainer— Rewards Network brings customers from all over. They've brought us more sales that we didn't have before, and we didn't have to do much."
– Victoria Valdes , Chief Director of Communications at Pinecrest Bakery
---