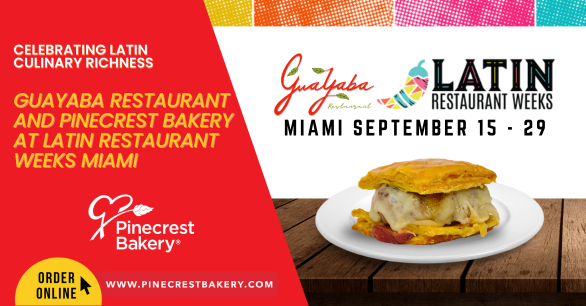 Great news! Starting from September 15th to the 29th, we will be a part of Latin Restaurant Weeks, an exciting initiative that aims to celebrate the flavors of Latin cuisine in Miami. But what makes Latin Restaurant Weeks so special? This celebration goes beyond delicious food; it resides in the contributions of Latinos in the culinary industry, who are an integral part of our local community. This platform provides us with the opportunity to amplify our voices and visibility in Miami.
Exploring Our Identity:
We have an exciting opportunity to share a Bite into tradition with all those interested in discovering our food, culture, and heritage. We are delighted to introduce, for the first time, our delicious "Guayaba Frita" as part of the special menu at nuestra querida prima Guayaba Restaurant, at either of its two locations in Goulds and Doral next to Pinecrest Bakery, another proud participant of Latin Restaurant Weeks.
The Excitement in the Air:
The event has already attracted the attention of various digital media outlets, which fills us with pride and gratitude. We are pleased to share that we have been featured in Miami New Times in their "Things to Do" section, with an article titled "Latin Restaurant Weeks Returns to Miami to Celebrate Hispanic Small Business Owners" 1. We are also featured in Secret Miami with their article "Enjoy Delicious Dining Deals This Month With Latin Restaurant Weeks" 2.
Expressing Our Gratitude:
We want to take this opportunity to express our deep gratitude to our beloved family. Without you, opportunities like this would not be possible. Additionally, more than half a million pastries per year testify that love and quality can build wonderful things.
We hope you will join us during Latin Restaurant Weeks to celebrate the richness of our culture and flavors. We look forward to welcoming you from September 15th to the 29th at Guayaba Restaurant and all Pinecrest Bakery locations participating during Latin Restaurant Weeks.
Footnotes:
Source: Miami New Times - "Latin Restaurant Weeks Returns to Miami to Celebrate Hispanic Small Business Owners" ↩️
Source: Secret Miami - "Enjoy Delicious Dining Deals This Month With Latin Restaurant Weeks" ↩️
---