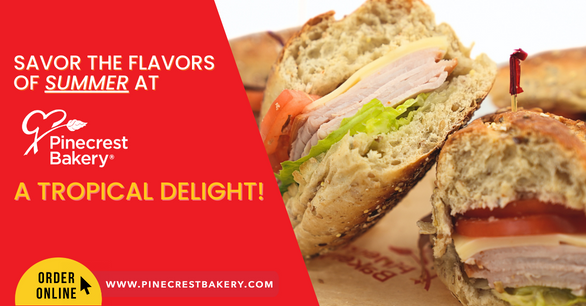 Welcome to Pinecrest Bakery, a vibrant oasis where the rich aromas of freshly baked goods mingle with the cheerful chatter of customers. I'm thrilled to guide you through the exciting summer promotions at Pinecrest Bakery. Get ready to embark on a tantalizing journey filled with delectable treats, sunny vibes, and Latin-American charm. Join us as we explore the best of summer flavors and discover why Pinecrest Bakery is the ultimate destination for those seeking a taste of paradise.
Indulge in Irresistible Classics - The Prepared Mini Croquetas
Picture yourself at a lively party, surrounded by friends and family, with laughter and joy in the air. Make your gathering unforgettable by adding our Prepared Mini Croquetas to your main party menu. These bite-sized treasures are a crowd favorite that will leave your guests craving for more. Delight in the crispy exterior and the creamy, savory filling that transports you to the bustling streets of Latin America.
A Sunny Beach Breakfast - The Breakfast Summer Beach Pack
As the sun rises over the sparkling waves, start your day with a mouthwatering breakfast from our Summer Beach Pack. Experience the flavors of paradise with Tostada Ham and Cheese, Turkey Cheese, or Cheese Tostada. Savor the perfect balance of flavors that will transport you to a tropical getaway. Wash it down with our 4-Pack of Iced Coffee, Iced Cafe Con Leche, or Iced Colada, refreshing beverages that provide a delightful kick-start to your day. This pack is the perfect companion for your summer adventures.
A Refreshing Midday Delight - The Lunch Summer Beach Pack
Take a break from the sun and recharge with our Lunch Summer Beach Pack. Enjoy the goodness of Multigrain Turkey sandwiches, made with love and served with a side of wholesome ingredients. Accompany your meal with our invigorating Smoothies, bursting with tropical flavors that will transport your taste buds to paradise. This pack is the perfect midday oasis during your summer escapades.
Unleash Your Inner Party Spirit - The Party Summer Beach Pack
No summer celebration is complete without our Party Summer Beach Pack. Indulge in the tantalizing assortment of 25 Mini Assorted Cupcakes, each one a bite-sized piece of heaven. Let the flavors transport you to a tropical paradise, where the sweetness of the cupcakes dances on your tongue. Complement this with 25 lace bites, delicate treats that add a touch of elegance to your gathering. Quench your thirst with our Carafe of Fruit Juice, a refreshing elixir that embodies the vibrant colors and flavors of the season. This pack ensures that your summer party is a fiesta to remember.
"we believe that every bite should transport you to a sun-drenched beach, where the flavors of Latin America intertwine with American favorites"
At Pinecrest Bakery, we believe that every bite should transport you to a sun-drenched beach, where the flavors of Latin America intertwine with American favorites. With our summer promotions, you can embark on a culinary adventure that awakens your taste buds and transports you to a tropical paradise. Come and experience the vibrant atmosphere, friendly service, and mouthwatering delights that have made Pinecrest Bakery a beloved destination. Let us be your summer oasis, where every visit is a celebration of flavor, culture, and the joy of summer. 
¡Bienvenidos a Pinecrest Bakery, where summer never tasted so good!
When it comes to finding Pinecrest Bakery and their exciting Summer Promotions, you're in luck! With multiple locations spread across Miami, Kendall, Doral and Palmetto Bay, you can easily indulge in their delectable treats and take advantage of their seasonal promotions. Whether you're strolling along the sunny streets of Miami, exploring the vibrant community of West Miami, or enjoying the charming atmosphere of Coral Gables, Pinecrest Bakery is just a short distance away. Experience the fusion of Latin-American charm and American flavors at any of their conveniently located branches. So, no matter where you find yourself this summer, Pinecrest Bakery is there to satisfy your cravings and elevate your culinary experience with their irresistible Summer offerings.
Don't miss out on these tropical delights that will transport your taste buds to paradise!
---