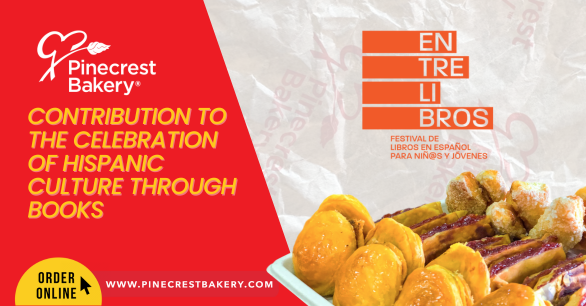 Pinecrest Bakery proudly sponsored the Entrelibros Festival de Libros en Español para niñ@s y jovenes, a celebration of Hispanic literature, which took place from October 13th to 15th in Miami.
Why the Entrelibros Festival?
ENTRELIBROS is a vibrant festival created to offer our community the best and most diverse selection of illustrated books in Spanish for children and young adults. Its primary goal is to promote reading in the Spanish language and celebrate Hispanic Heritage Month. Organized by IMAGO X LAS ARTES in collaboration with the Coral Gables Museum, this book festival brings together a showcase of the finest publishers from Spain and Latin America. In addition, there is an engaging program of interactive activities for all ages, including readings, panel discussions, art workshops, storytelling, and more.
The Significance of Our Language
Miami is, to a significant extent, the Latin hub of the United States. Providing the opportunity for young generations to connect with their roots and explore the richness of the Spanish language through reading during their formative years is not only important but essential. It allows their minds to thrive in a language as vibrant and diverse as Spanish.
Pinecrest Bakery, proudly Cuban, proudly Latino, proudly Spanish-speaking, recognizes the importance of nurturing and preserving the Spanish language within our community.
A Celebration of Culture and Family
As a sponsor of this festival, Pinecrest Bakery not only celebrated Hispanic culture but also emphasized the paramount significance of family roots. The festival served as a reminder of the importance of cultural heritage and the profound influence it has on our lives.
In a city like Miami, where the Hispanic community is a vital part of its identity, the EntrelIBROS Festival provided a platform for connecting with our heritage and nurturing a love for the Spanish language. Pinecrest Bakery is committed to being a part of this cultural celebration and supporting initiatives that strengthen the bond between language, culture, and family.
Bite into tradition, porque la familia te respalda y no te decepciona.
---